Jokes About People
Jokes about people are great as long as they're just harmless fun and aren't symptoms of any underlying bigotry. And these collections of people jokes are all meant, as the UK comedian Kenny Everett used to say, "in the best possible taste", with no offence intended.
So enjoy them!
Popular Jokes About People Pages
Don't get hot-headed at these funny ginger and redhead jokes, they're only meant in jest!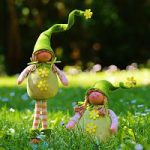 Here's a bumper collection of short people jokes to dwarf any others you'll find anywhere else.
All Funny Jokes About People