Do you fancy yourself as a brainbox? Well, get ready to put yourself to the test with our fantastic collections of fun riddles and brain teasers. From mind twisting riddles to easy riddles for kids to testing word brain teasers, we've something here for all ages and all abilities, so have some mind-boggling fun! When you've finished all the riddles here at LaffGaff, why not visit our sister site Riddlicious for lots more great riddles?
Popular Riddles And Brain Teasers
Here are our fabulous fun free riddles and brain teasers. Have fun with them!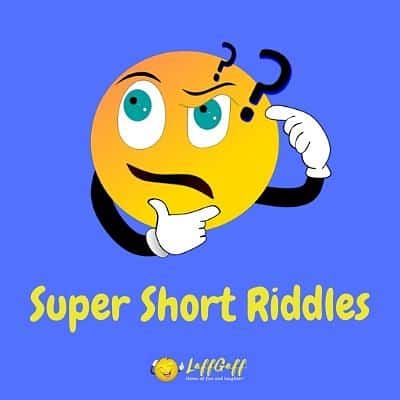 They say size isn't everything and they're right, as shown by these super short riddles and brainteasers! How many can you answer?
More Fun And Laughter
If you enjoyed our collections of mind-bending riddles and brainteasers, be sure to check out the rest of LaffGaff for lots more fun and laughter. We have a huge selection of funny jokes, trivia questions and answers, funny quotes, quizzes and pick up lines, so there's something for everyone!