Funny Yo Mama Jokes
Collections of the best and funniest clean Yo Mama jokes for kids and adults alike. Yo Mama jokes (also known variously as Yo Mamma, Yo Moma and Yo Momma jokes) are, to quote Wikipedia:
used to insult the target by way of their mother. Used as an insult, "yo mama jokes" prey on widespread sentiments of filial piety, making the insult particularly and globally offensive.
Below are our favorite clean examples of these insults, so you'll never be short of a funny comeback again, especially if someone insults your mom!
Popular Yo Momma Jokes Pages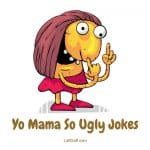 There's nothing ugly about these particular Yo Mama jokes; they're beautifully funny!