Funny Small Ads
Classified adds provide a useful function in society - they let people buy and sell things, and they also serve the vital role of reminding us just what kind of weirdos are out there. Here's a selection of funny small ads to make you go WTF.
---
---
1. This Is A Grave Situation
Buy used tombstone
Change your name just before you die
Profit...

---
 2. A Love To Die For
...Or maybe you could buy it for your wife and get her to change her name to Homer HendelBergenHeinzel...
---
 3. They'd Only Be Worth $1 If They Were Buck Teeth
Now here's an offer you could really get your teeth into! Or would you be biting off more than you can chew?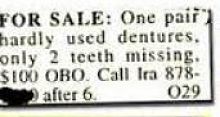 ---
4. What A Rott-en Picture
Aaannnddd.... speaking of something to get your teeth into - Mr Giggles really does look a bundle of fun and good with kids. If I was going to sell a dog, this is definitely the kind of picture I'd use!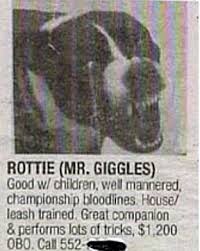 ---
5. Nothing To Crow About
Maybe he's planning to stick them together to make vel-crows?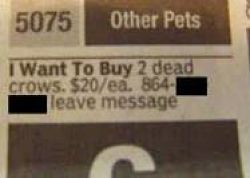 ---
6. That Seems 'Armless Enough
The hand bone's connected to the arm bone... the arm bone's connected to the... oh, wait!

---
7. A Right Balls-Up
It sounds like someone took their eye off the ball when getting it signed.
---
8. That's A Bad Cat-titude
I'm guessing there are at least nine scratches if the cat's been killed. I guess they don't pussy around.
---
9. Are They Taking The P*ss?
Urine a fine mess if you buy this mattress...

---
10. Holy Cow! Or A Load Of Bull?
Those 500lb Angus steers can be tricky little blighters to keep track of; they're so easily misplaced.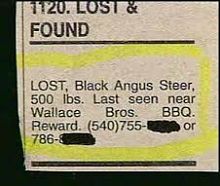 ---
11. A Pay Cut? Just The Job
Notice it says "staring pay" not "starting pay". Maybe it's just the job you've been looking for?
---
12. The Lengths Some People Will Go To
I wasn't quite sure whether to erm.. put this one in.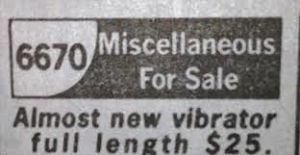 ---
13. That Sounds Fowl
I guessed they were stuffed, but at least that means here's an offer to gobble up.

---
14. Ring If Interested?
The hoops you have to jump through to get a job these days!
---
15. Must Be Prepared To Travel... Time Travel, That Is
If you really wanted to spice things up, you could use a thyme machine...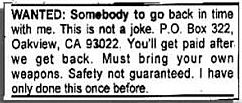 ---
Funny Small Ads 
If you enjoyed these funny small ads, check out the rest of our site for lots more funny jokes and laughs, including our funny newspaper headlines.