Funny Jokes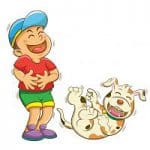 LaffGaff is all about funny jokes and anything that makes us laugh – we believe that laughter makes the world go round; the world would be a much duller place without a sense of humor. And when it comes to jokes, they don't come any funnier than these great collections.
So enjoy browsing these fantastic funny jokes…
Confucius was a Chinese philosopher credited with many wise sayings. And now, of course, there are many so-called Confucius Say jokes that take the same form as his actual quotes. And as we love funny stuff like that, we've gathered together all the finest examples here.