Funny Christmas Quotes
Christmas is a time of joy and laughter. Most of the time... These funny Christmas quotes sum up perfectly both the highs and the lows of Christmas time.
Enjoy them, and we wish you a Merry Christmas!
Bloody Christmas, here again, let us raise a loving cup, peace on earth, goodwill to men, and make them do the washing up. ~ Wendy Cope
Merry Christmas, nearly everybody! ~ Ogden Nash
Aren't we forgetting the true meaning of Christmas, the birth of Santa? ~ Bart Simpson
The worst gift that I ever gave a girl was a suitcase for Christmas. As in, "I can't think of anything to give you, but here's a new suitcase." Afterwards, I was like, "What were you thinking, idiot?" ~ Jensen Ackles
It's customarily said that Christmas is done 'for the kids'. Considering how awful Christmas is and how little our society likes children, this must be true. ~ P. J. O' Rourke
I once bought my kids a set of batteries for Christmas with a note on it saying, "Toys not included." ~ Bernard Manning
The one thing women don't want to find in their stockings on Christmas morning is their husband. ~ Joan Rivers
The Supreme Court has ruled that they cannot have a nativity scene in Washington, D.C. This wasn't for any religious reasons. They couldn't find three wise men and a virgin. ~ Jay Leno
My husband's idea of getting the Christmas spirit is to become Scrooge. ~ Melanie White
Christmas comes, but once a year is enough. ~ Anonymous
The first rule in buying Christmas presents is to select something shiny. If the chosen object is of leather, the leather must look as if it has been well greased; if of silver, it must gleam with the light that never was on sea or land. This is because the wariest person will often mistake shininess for expensiveness. ~ P. G. Wodehouse
Christmas is the time when everyone wants his past forgotten and his present remembered. ~ Phyllis Diller
In the old days, it was not called the Holiday Season; the Christians called it 'Christmas' and went to church; the Jews called it 'Hanukkah' and went to synagogue; the atheists went to parties and drank. People passing each other on the street would say 'Merry Christmas!' or 'Happy Hanukkah!' or (to the atheists) 'Look out for the wall! ~ Dave Barry
The principal advantage of the non-parental lifestyle is that on Christmas Eve you need not be struck dumb by the three most terrifying words that the government allows to be printed on any product: 'Some assembly required.' ~ John Leo
Christmas is a time when kids tell Santa what they want and adults pay for it. Deficits are when adults tell the government what they want and their kids pay for it. ~ Richard Lamm
I love Christmas. I receive a lot of wonderful presents I can't wait to exchange. ~ Henry Youngman
Next to a circus there ain't nothing that packs up and tears out any quicker than the Christmas spirit. ~ Kin Hubbard
Oh look, yet another Christmas TV special! How touching to have the meaning of Christmas brought to us by cola, fast food, and beer... Who'd have ever guessed that product consumption, popular entertainment, and spirituality would mix so harmoniously? ~ Bill Watterson
Once again, we come to the Holiday Season, a deeply religious time that each of us observes, in his own way, by going to the mall of his choice. ~ Dave Barry
What I don't like about office Christmas parties is looking for a job the next day. ~ Phyllis Diller
Let me see if I've got this Santa business straight. You say he wears a beard, has no discernible source of income and flies to cities all over the world under cover of darkness? You sure this guy isn't laundering illegal drug money? ~ Tom Armstrong
I love the Christmas-tide and yet,
I notice this, each year I live;
I always like the gifts I get,
But how I love the gifts I give!
~ Carolyn Wells
Christmas at my house is always at least six or seven times more pleasant than anywhere else. We start drinking early. And while everyone else is seeing only one Santa Claus, we'll be seeing six or seven. ~ W. C. Fields
There is a remarkable breakdown of taste and intelligence at Christmastime. Mature, responsible grown men wear neckties made of holly leaves and drink alcoholic beverages with raw egg yolks and cottage cheese in them. ~ P. J. O'Rourke
Santa knows physics: of all colors, red light penetrates fog best. That's why Benny the Blue-nosed reindeer never got the gig. ~ Neil deGrasse Tyson
I stopped believing in Santa Claus when I was six. Mother took me to see him in a department store and he asked for my autograph. ~ Shirley Temple
Nothing's as mean as giving a little child something useful for Christmas. ~ Kin Hubbard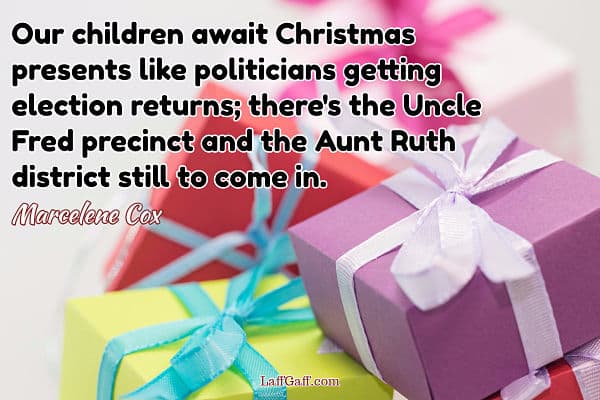 Our children await Christmas presents like politicians getting election returns; there's the Uncle Fred precinct and the Aunt Ruth district still to come in. ~ Marcelene Cox
I wrapped my Christmas presents early this year, but I used the wrong paper. See, the paper I used said 'Happy Birthday' on it. I didn't want to waste it so I just wrote 'Jesus' on it. ~ Demetri Martin
"One can never have enough socks," said Dumbledore. "Another Christmas has come and gone and I didn't get a single pair. People will insist on giving me books." ~ J. K. Rowling
Anyone who believes that men are the equal of women has never seen a man trying to wrap a Christmas present. ~ Anonymous
I love the excess of Christmas. The shopping season that begins in September, the bad pop star recordings of Christmas carols, the decorations that don't know when to come down. ~ Mo Rocca
How many observe Christ's birthday! How few, His precepts! ~ Benjamin Franklin
Santa Claus has the right idea. Visit people once a year. ~ Victor Borge
A lovely thing about Christmas is that it's compulsory, like a thunderstorm, and we all go through it together. ~ Garrison Keillor
Santa Claus wears a red suit, he must be a communist. And a beard and long hair, must be a pacifist. What's in that pipe that he's smoking? ~ Arlo Guthrie
That's the true spirit of Christmas; people being helped by people other than me. ~ Jerry Seinfeld
On a busy day twenty-two thousand people come to visit Santa, and I was told that it is an elf's lot to remain merry in the face of torment and adversity. I promised to keep that in mind. ~ David Sedaris
Mail your packages early so the post office can lose them in time for Christmas. ~ Johnny Carson
People are so worried about what they eat between Christmas and the New Year, but they really should be worried about what they eat between the New Year and Christmas. ~ Anonymous
At Christmas, tea is compulsory. Relatives are optional. ~ Robert Godden
There are some wonderful aspects to Christmas. It's magical. And each year, from at least November, well, September, well, if I'm honest, May, I look forward to it hugely. ~ Miranda Hart
Christmas is a baby shower that went totally overboard. ~ Andy Borowitz
Never worry about the size of your Christmas tree. In the eyes of children, they are all 30 feet tall. ~ Larry Wilde
Don't give me books for Christmas; I already have a book. ~ Jean Harlow
A lovely thing about Christmas is that it's compulsory, like a thunderstorm, and we all go through it together. ~ Garrison Keillor
Christmas to a child is the first terrible proof that to travel hopefully is better than to arrive. ~ Stephen Fry
The worst gift I was given is when I got out of rehab that Christmas; a bottle of wine. It was delicious. ~ Craig Ferguson
What I like about Christmas is that you can make people forget the past with the present. ~ Don Marquis
I walked inside Macy's and faced the pathetic spectacle of a department store full of shoppers, none of whom were shopping for themselves. Without the instant gratification of a self-aimed purchase, everyone walked around in the tactical stupor of the financially obligated. ~ Rachel Cohn
Not believe in Santa Claus! You might as well not believe in fairies! ~ Francis Pharcellus Church
There are some people who want to throw their arms round you simply because it is Christmas; there are other people who want to strangle you simply because it is Christmas. ~ Robert Staughton Lynd
What's great about an office Christmas party is that it uncovers and reveals parts of your personality that you didn't see coming. ~ Will Speck
The worst gift is a fruitcake. There is only one fruitcake in the entire world, and people keep sending it to each other. ~ Johnny Carson
Glen had a disability more disfiguring than a burn and more terrifying than cancer. Glen had been born on the day after Christmas. "My parents just combine my birthday with Christmas, that's all," he explained. But we knew this was a lie. Glen's parents just wrapped a couple of his Christmas presents in birthday-themed wrapping paper, stuck some candles in a supermarket cake, and had a dinner of Christmas leftovers. ~ Augusten Burroughs
I hate the radio this time of year because they play "All I Want For Christmas Is You" like, every other song. And that's just not enough. ~ Bridger Winegar
If your birthday is on Christmas day and you're not Jesus, you should start telling people your birthday is on June 9 or something. Just read up on the traits of a Gemini. Suddenly you're a multitasker who loves the color yellow. Because not only do you get stuck with them combo gift, you get the combo song. "We wish you a merry Christmas - and happy birthday, Terry - we wish you a merry Christmas - happy birthday, Terry - we wish you a merry Christmas and a happy New Ye - Birthday, Terry! ~ Ellen DeGeneres
I'd rather do community service than sit and write a load of Christmas cards. ~ Paul O'Grady
"The Little Drummer Boy" was playing in the background for what seemed like the third time in a row. I fought off an urge to beat that Little Drummer Boy seneless with his own drumsticks. ~ Dana Reinhardt
It was snowing. It was always snowing at Christmas. December, in my memory, is white as Lapland, though there were no reindeer. But there were cats. ~ Dylan Thomas
The two most joyous times of the year are Christmas morning and the end of school. ~ Alice Cooper
I like indoor Christmas trees. And I like people who decorate their homes with lights and all that crap. I think it's a healthy outlet for them. If they weren't covering their lawns with twinkling lights, they'd be doing something that was really, really creepy. ~ Lewis Black
Funny Christmas Quotes
If our funny Christmas quotes filled you with seasonal joy, be sure to check out the rest of our funny quotes and sayings too, such as these: