Funny Christmas Quotes
Christmas is a time of joy and laughter. Most of the time... These funny Christmas quotes sum up perfectly both the highs and the lows of Christmas time.
Enjoy them, and we wish you a Merry Christmas!
It's customarily said that Christmas is done 'for the kids'. Considering how awful Christmas is and how little our society likes children, this must be true. ~ P. J. O' Rourke
Christmas comes, but once a year is enough. ~ Anonymous
I love Christmas. I receive a lot of wonderful presents I can't wait to exchange. ~ Henry Youngman
I love the Christmas-tide and yet,
I notice this, each year I live;
I always like the gifts I get,
But how I love the gifts I give!
~ Carolyn Wells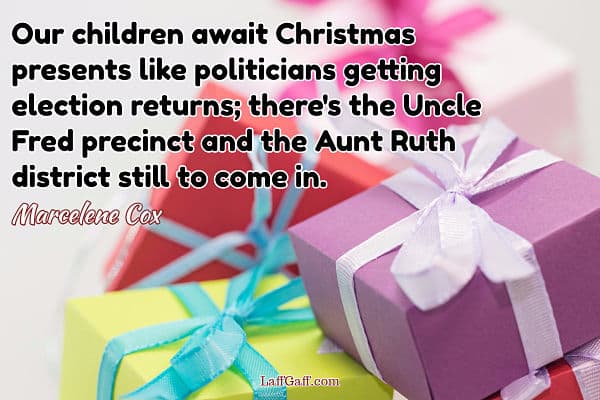 Our children await Christmas presents like politicians getting election returns; there's the Uncle Fred precinct and the Aunt Ruth district still to come in. ~ Marcelene Cox
Santa Claus has the right idea. Visit people once a year. ~ Victor Borge
People are so worried about what they eat between Christmas and the New Year, but they really should be worried about what they eat between the New Year and Christmas. ~ Anonymous
A lovely thing about Christmas is that it's compulsory, like a thunderstorm, and we all go through it together. ~ Garrison Keillor
Funny Christmas Quotes
If our funny Christmas quotes filled you with seasonal joy, be sure to check out the rest of our funny quotes and sayings too, such as these: